SAFARI MINI KAYAK TRIP
3 days touring Croatia on a KAYAK
Excellent way to learn raiding and improve sekayaking skills

Croatia undoubtedly, is one of the most remarkable places for kayaking.

Imagine a horizon of islands, flat, translucent water, virgin landscapes, and a rocky coast cut like a labyrinth.

Galeb Aventures takes you to the Kornatis, a vast archipelago of more than 400 islands and islets, to discover its landscapes, culture and inhabitants.

Croatia mini kayak tour highlights
Navigate a very dense archipelago
The horizon is walled by the islands. Whatever direction you go, you will navigate through a fun, beautiful and safe labyrinth.

Landscapes full of variety and beauty

Discover a sublime landscape, a sea of incredible colors, and untouched nature.
Safety Waters
The waters protected by the islands provide easy and safe navigation.

Guide expérience

Since 2003, our guides have sailed countless miles and racked up loads of experience making Galeb Adventures an original.

3 days Mini Kayak trip Program
ACCUEIL Jour 01
Our team welcomes you in the late afternoon hours at the Pakostane base. Your guide will introduce you to the nautical base and settle final formalities.
You will then get acquainted with the group over a wonderful dinner of local specialities organized by your guide.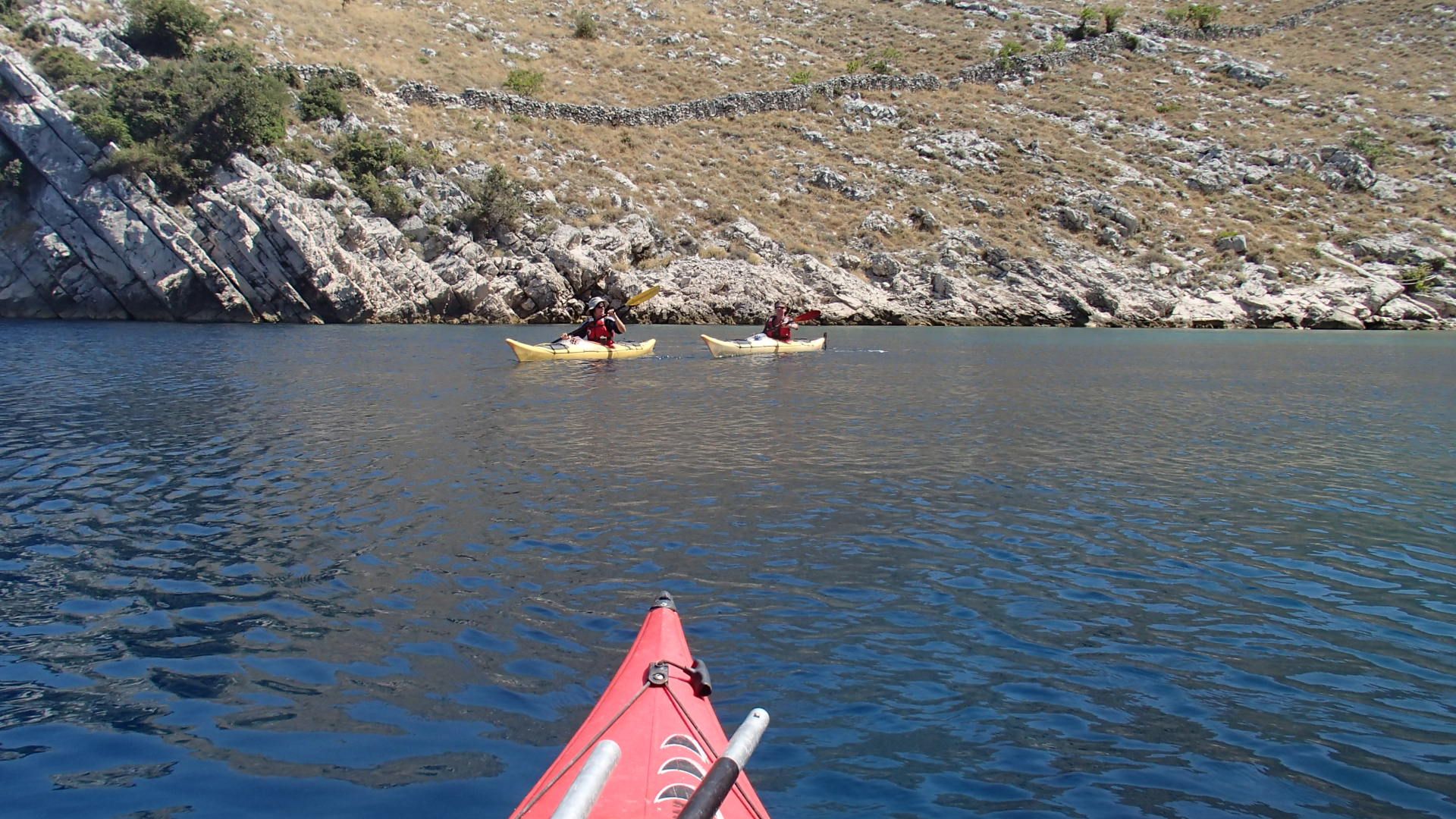 DAY 02
On the way to the Island of Pasman
The day begins with a hearty breakfast by the water's edge. Then it's time to have familiarize yourself with the basics of group navigation, paddling through the crystal clear waters of the Adriatic. Upon returning to the base, we prepare for the raid: tents, dishes, food...evrything must be return to our boats. Then it's off to the Island of Pasman, heading along the coast to discover the creeks and landscapes that make up its beauty. We reach the Island of Zizanj and set up camp.
DAY 01
The Labyrinth
We wake up to the songs of the cicadas. We slalom from island to island through archipelago: a true labyrinth, with limpid waters. You can admire the old stone walls that line the olive trees. We head towards Betina a small fishing village where we enjoy the Dalmatian ritual of sipping coffee on a Café Terrasse. We then continue our explorations before our day setting up a new camp.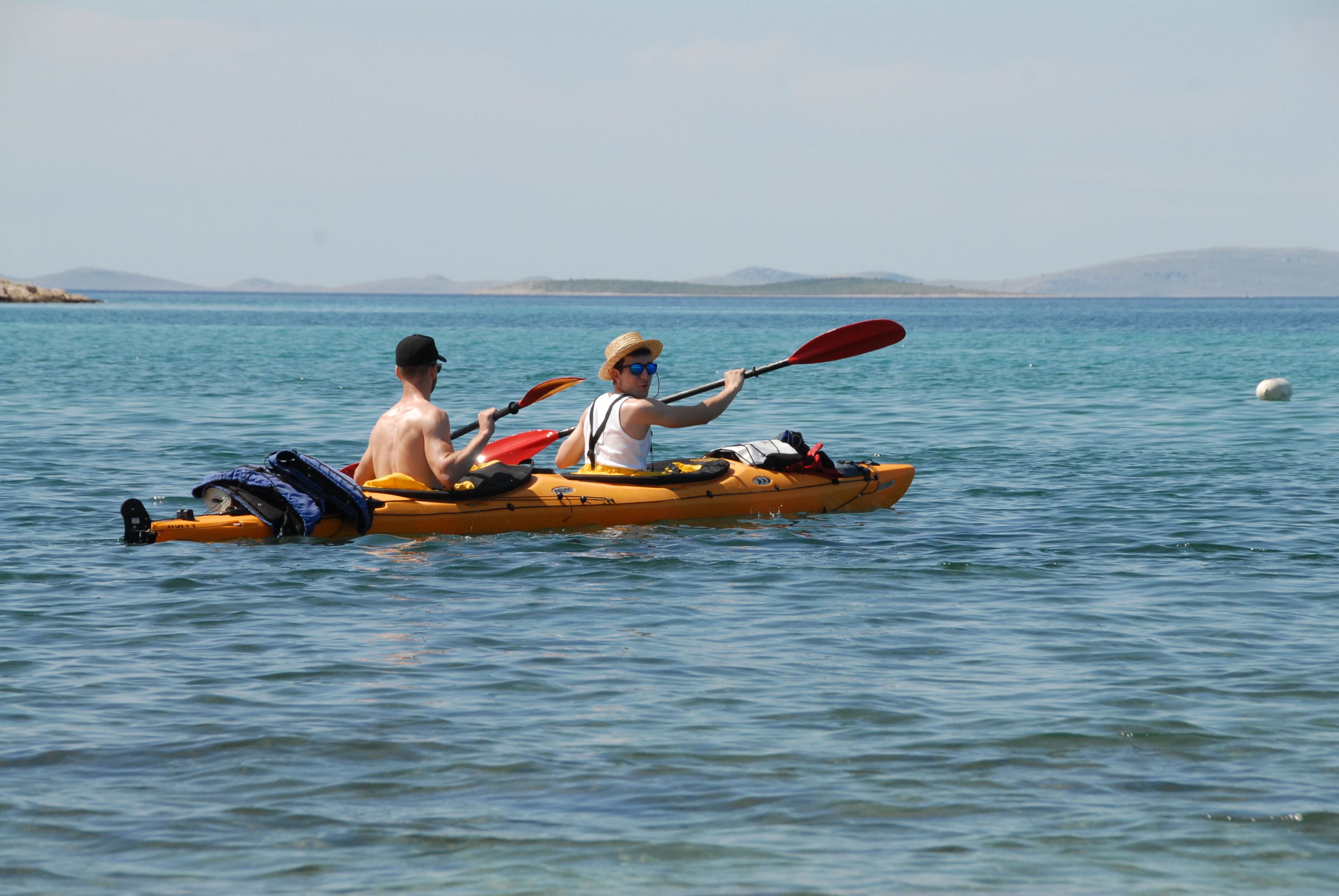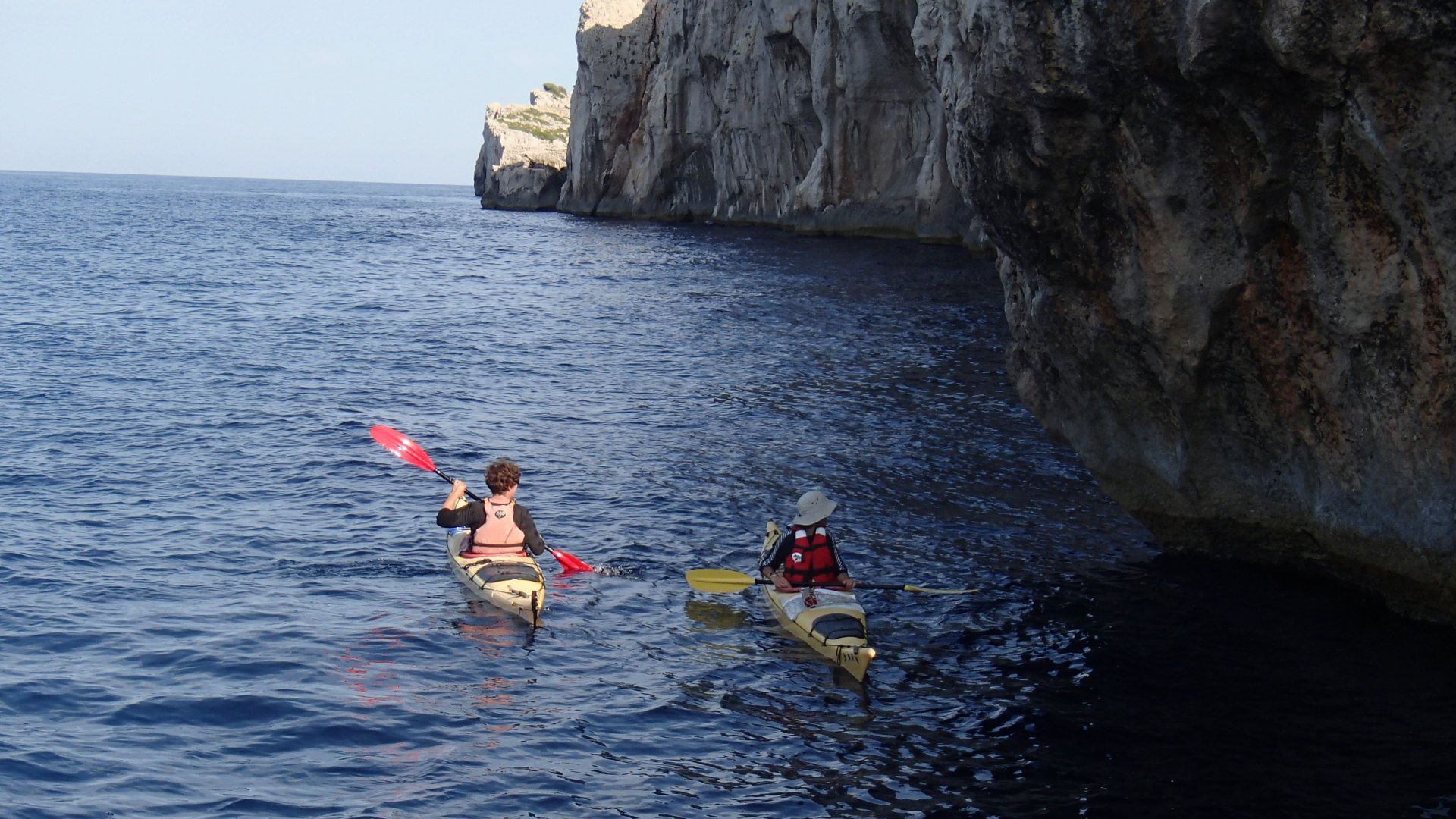 DAY 03
Back to Pakostane
There is always something magical about up waking up by the water's edge. Especially if you can swim. We head to Vrgada where we stop to explore the island. We then return to our kayaks and make our way back to Pakostane. The circle is complete. We rinse all materials, store and then end our trip with a last drink on a sea-facing terrace.
Single : "Seayak Prijon"
Weight 26 kg / Max load 120 kg / Dimensions (4,90 m. x 0,58m)
Équipment : 2 waterlight compartments (92 et 110 liters), deck net, lifeline, comfort seat, footrest, skirt and rudder. Polyethylene construction
Double : "Excursion Prijon"
Weight 37 kg / Max load 260 kg / Dimensions (5,18 m. x 0,72 m.)
Équipment : 2 waterlight compartments (60 et 120 liters), deck net, lifeline, comfort seat, footrest, skirt and rudder . Polyethylene construction.
.
NAVIGATION EQUIPMENT PROVIDED BY GALEB AVENTURES
Life jacket


Paddle

Spraydeck

CAMPING EQUIPMENT PROVIDED BY GALEB AVENTURES
Tents for 2

Cookware and camping gas

2 Waterproof bags (22 liters)

1 waterproof bag (7 liters)
WHAT YOU SHOULD BRING

A sleeping bag (be careful spring and autumn can be very cool)

A good floor mat (the best ones are self-inflating)

Sunglasses, hat or a cap, solar cream

Shorts


A fleece and a windbreaker (watch out for the cool sea))


A head light


Shoes for hiking


Soap for seawater


An outfit to protect from the sun during while out on the water (long sleeves Lycra tops, pants ..)

Essential medications


Shoes or booties to tackle stony beaches and sea urchins

Gloves

DATES AND DOCUMENTS
Every week from April to October


Valid identity card or passport

No vaccine necessary

Currency : Kuna
MINI KAYAK TRIP PRICE
Prix 2022 par personne :
300€
PRICE INCLUDES
Guide coaching
Kitchen and camping equipment (tents for two persons)
Accommodation and dinner from Arrival Day to lunch on day 3
PRICE DO NOT INCLUDE
Accommodation and dinner on the last day

Drinks, except water
Personal extra
ORGANIZING AGENCY IN CROATIA COORDINATES
---
Galeb Aventures
Obala petra Kresimira IV
23211 Pakostane
Croatia
Contact us Email.
Tel 00385 23 381 423
Mobil 00385 (0)91 542 3902