CATAMARAN SAFARI RAID
6-day trip in Croatia
Go on a major island to island sailing tour


Live to nature's rhythm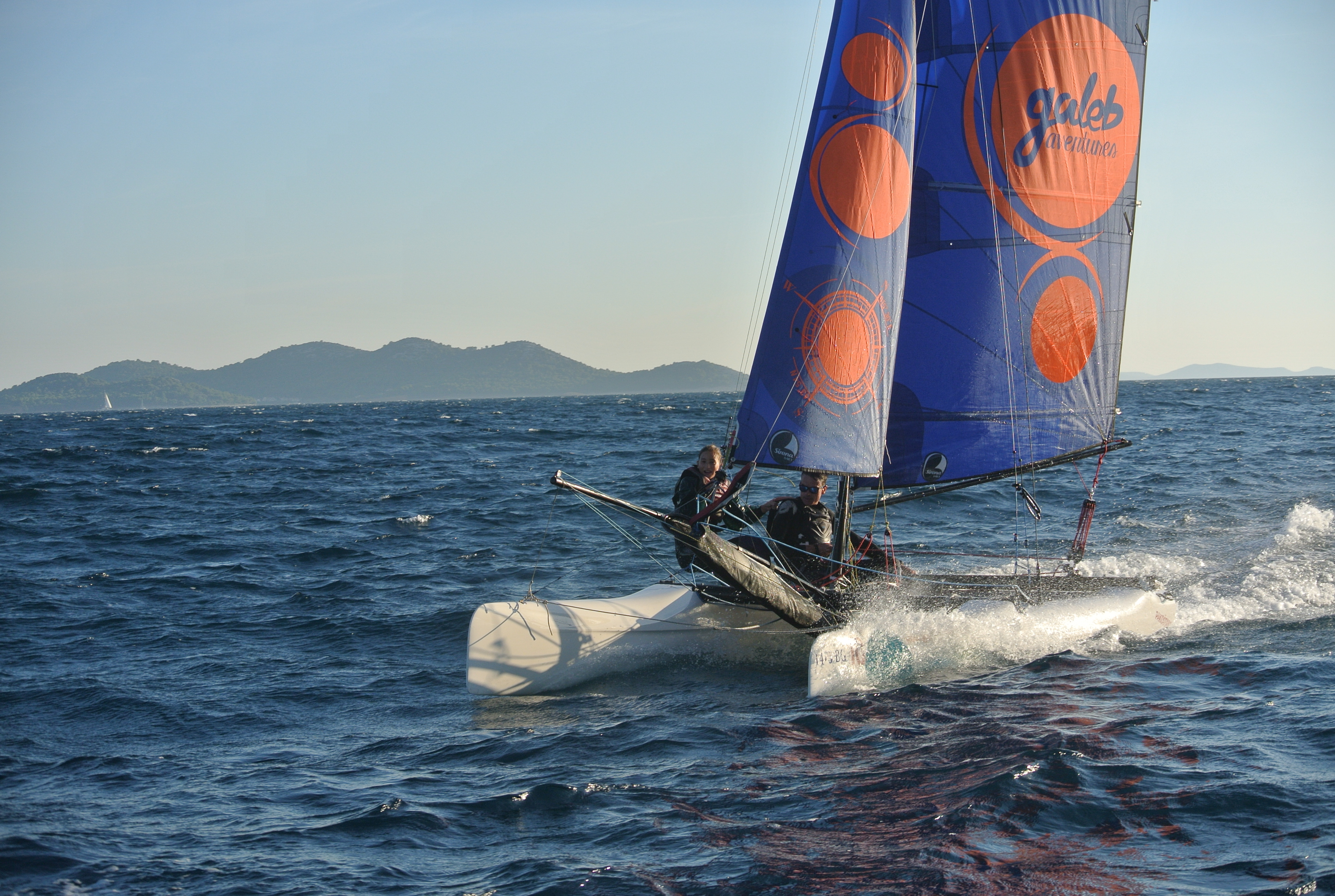 Croatia undoubtedly is one of the most remarkable sites to practice the Catamaran

Imagine a horizon of islands, flat and translucent water, winds between 12 and 20 knots every day, virgin landscapes and a rocky coast cut like a labyrinth. Galeb Adventures takes you in the famous Kornatis, a vast archipelago of more than 400 islands and islets, to discover its landscapes, culture and inhabitants.

Catamaran raid Croatia highlights
Navigation through a very dense archipelago
The horizon is walled by the islands. Whatever direction you go, you will navigate through a fun, lbeautiful and safe labyrinth.
Landscape full of variety and beauty
Discover a sublime landscape, a sea with incredible colors, and untouched nature.
Ideal wind statistics to practice catamaran sailing
Every day, the wind slowly rises to blow between 12 and 20 knots.
Feel Safe

The natural water protected by the islands provide easy and safe navigation.
Guide experience
Since 2003, our guides have sailed countless, miles and racked up loads of experience making Galeb Adventures an original.
6-day Catamaran program
Jour 01
Our team welcomes you at the end of the afternoon at the Pakostane base. Your guide, introduces you to the nautical base, settles the last formalities and leads you to your accommodations.
In the evening, the aperitif is the perfect time to get to know the band. Your guide will introduce you to the program of the raid.
Then it will be time to take care of yourself (and especially your stomachs) with a tasting of Croatian cuisine ..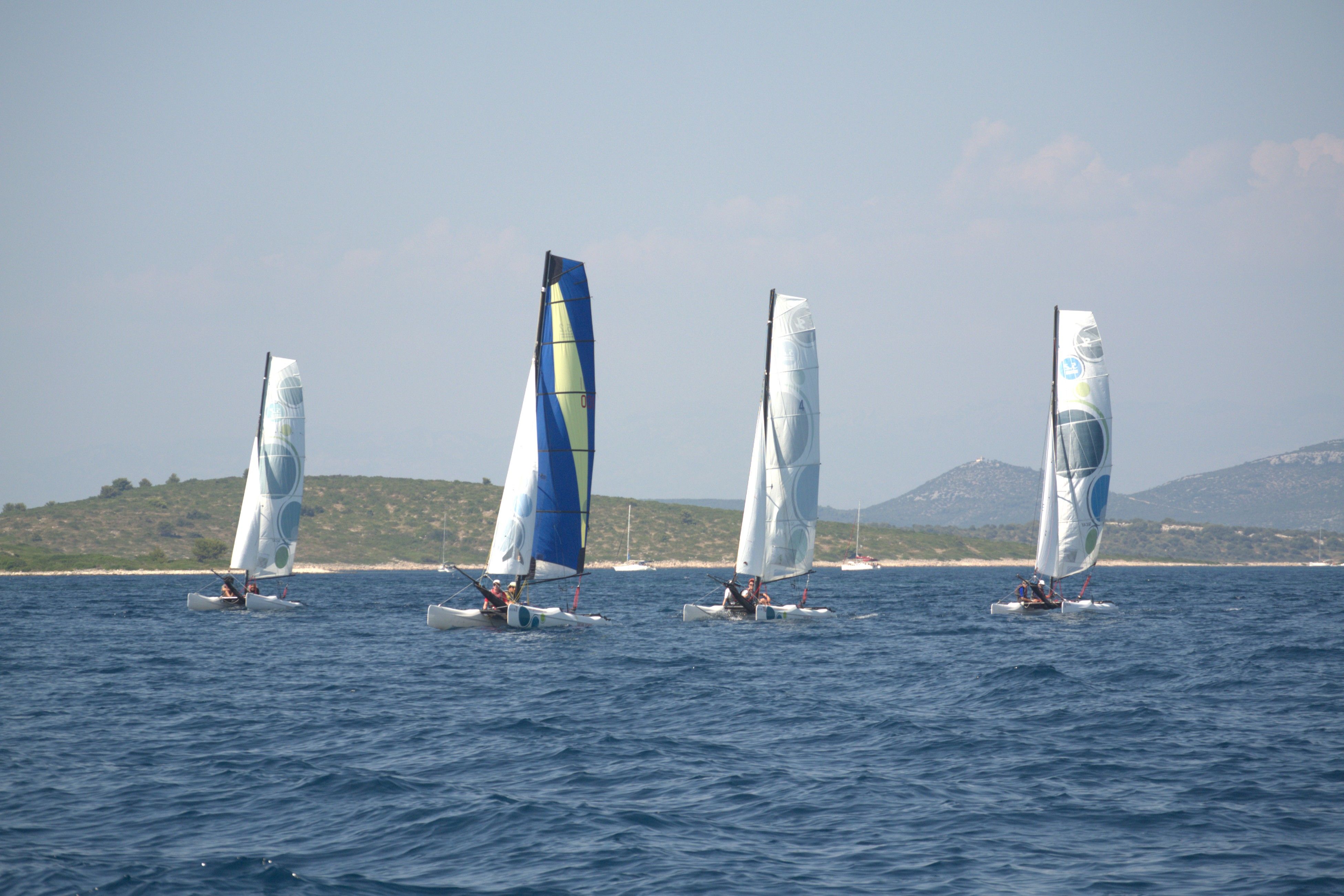 Day 01
DISCOVER OF THE ADRIATIC


The day begins with a hearty breakfast at the water's edge. We then head to the nautical base to present the boats and distribute nautical materials. The first day has two objectives: to become familiar with both the water and the ship. Experience has shown that this introductory day is vital before heading out on your expedition, and a great way to prepare for your adventure.
Day 03
HEADING OUT TO THE ISLAND OF PASMAN
The day stars with a warm-up: loading personal belongings, waters, tents and kitchen supplies on to the boat.
Your guide will then present the itinerary before final departure. We sail to the Island of Pasman via the Gangaro Lagoon.
We make our way toward the Island of Sit along the northern coast. We reach Sveti Ante Bay on Pasman Island and end the day with a fire and some grilled fish, toasting the dark night lit by the Milky Way and its constellations .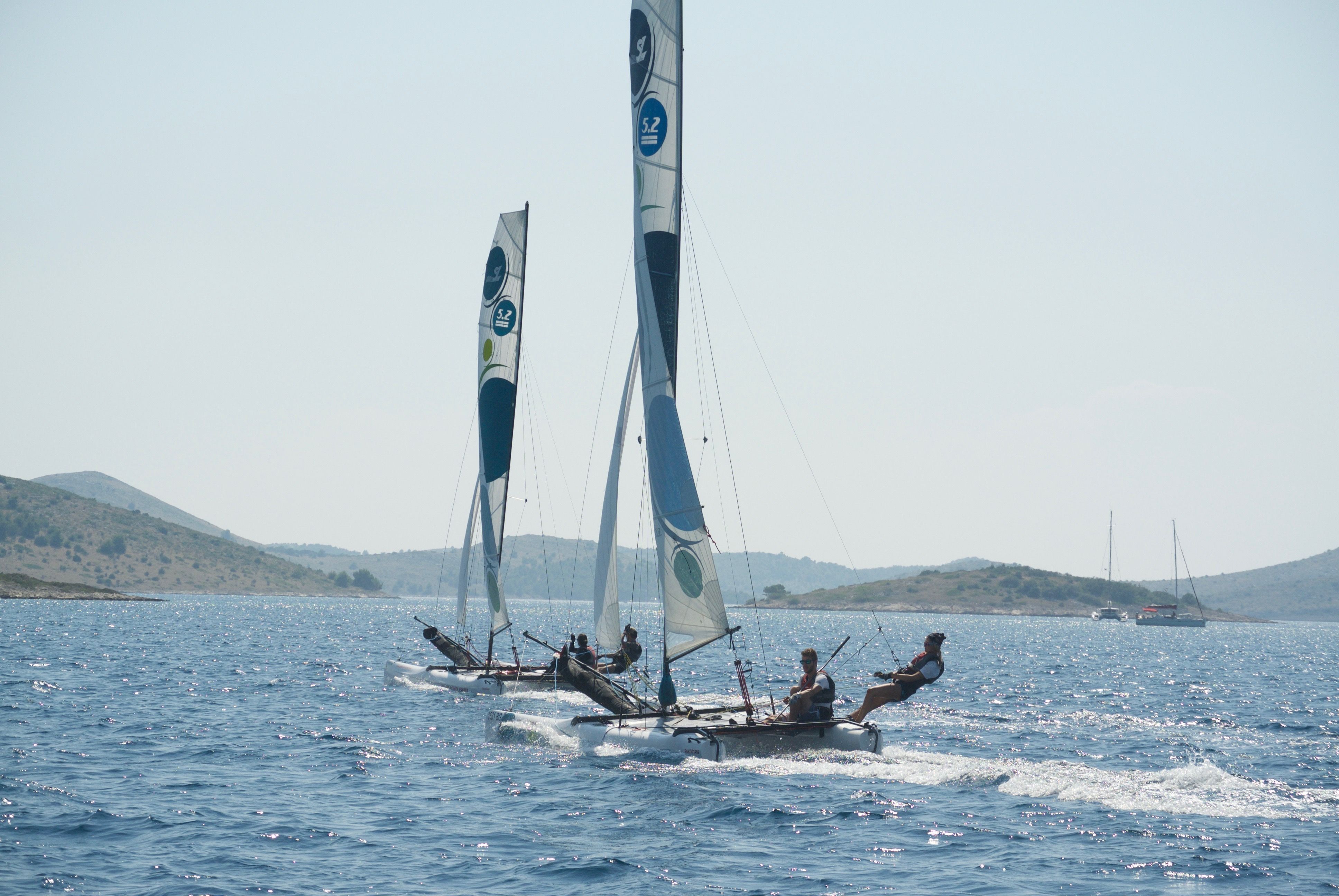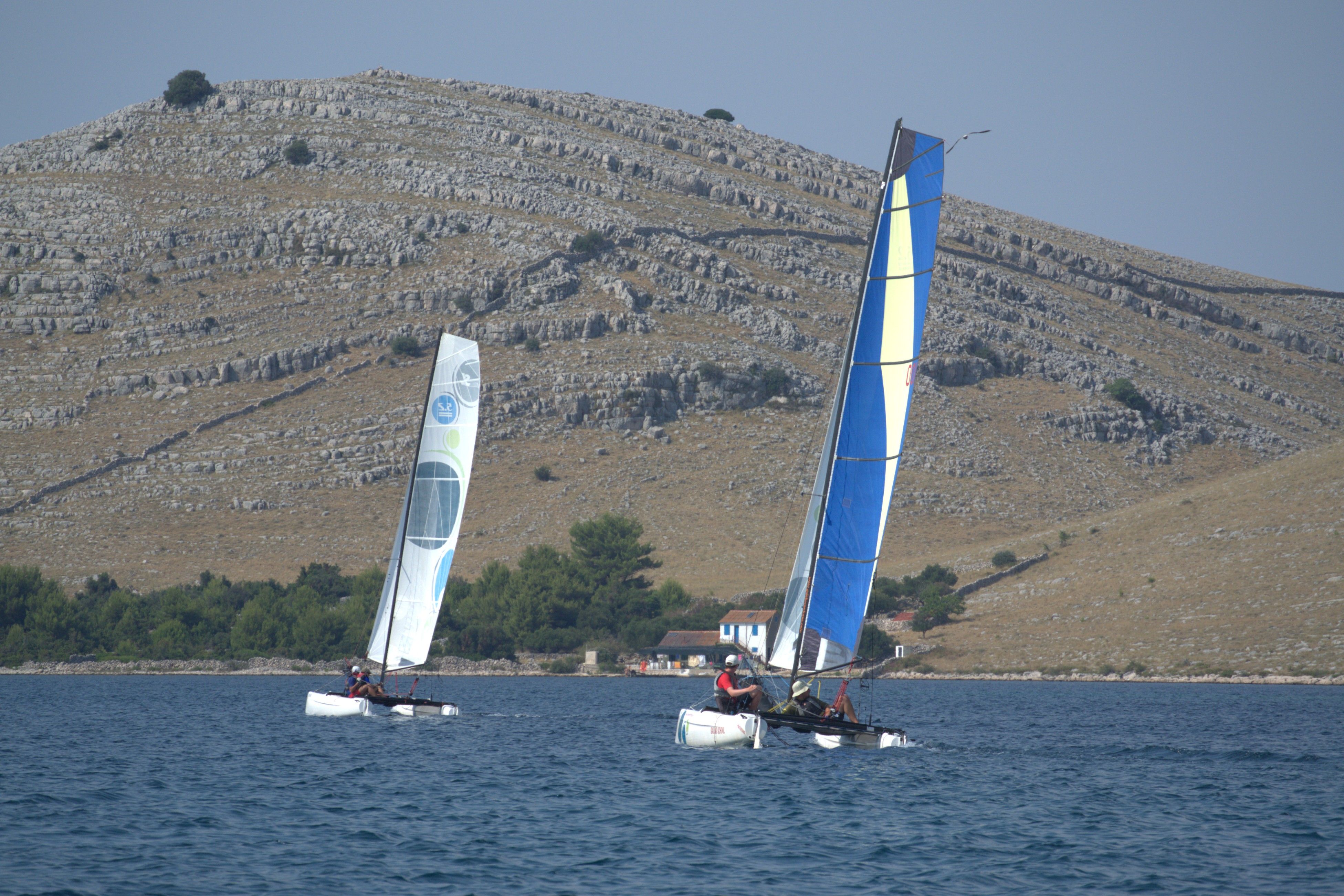 Day 04
LEVRNAKA BEACH
Le réveil est tranquille, petit-déjeuner au bord de l'eau, avant une éventuelle baignade et la préparation de notre seconde étape. Notre itinéraire nous conduit dans le parc national des Kornatis. Après le passage étroit de Proversa, c'est la descente à travers les îles vers le petit fort byzantin de l'île Kornat, puis Mana et enfin Levrnaka. Une végétation rase et dénudée qui caractérise les Kornatis : lunaire Nous camperons chez Edi.: le plus extraordinaire Konoba du parc. Au menu : poissons fraîchement grillés
Day 05
PENIZELIC ISLAND
Our route takes us further north Telascica National Park. After crossing the Sestrica lighthouse, we stop at a sandy beach hidden in the bottom of a small cove, and enjoy lunch. Depending on weather conditions, we go for a walk along the cliffs of the park. We then leave for the small island of Penizelic where we will set up camp.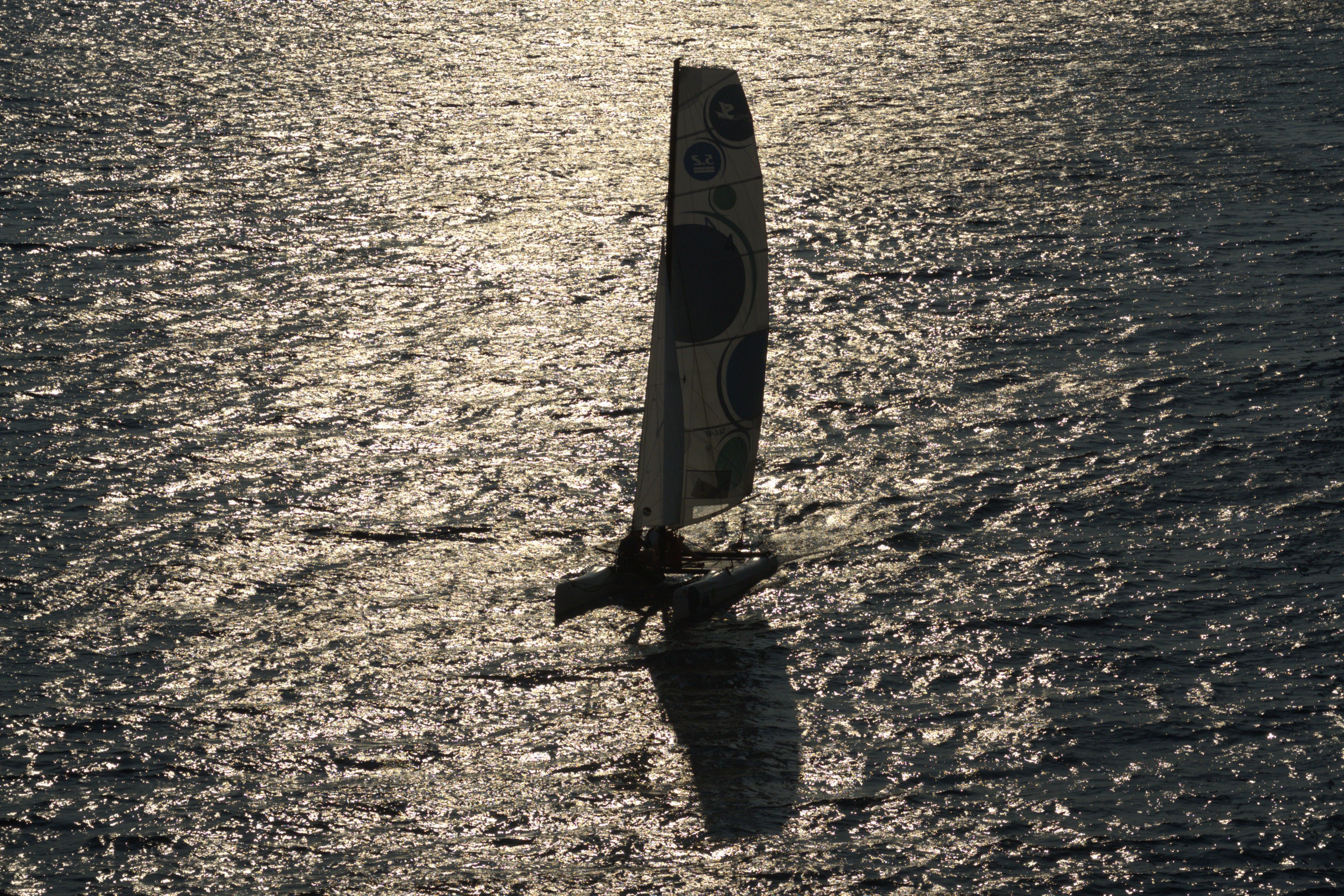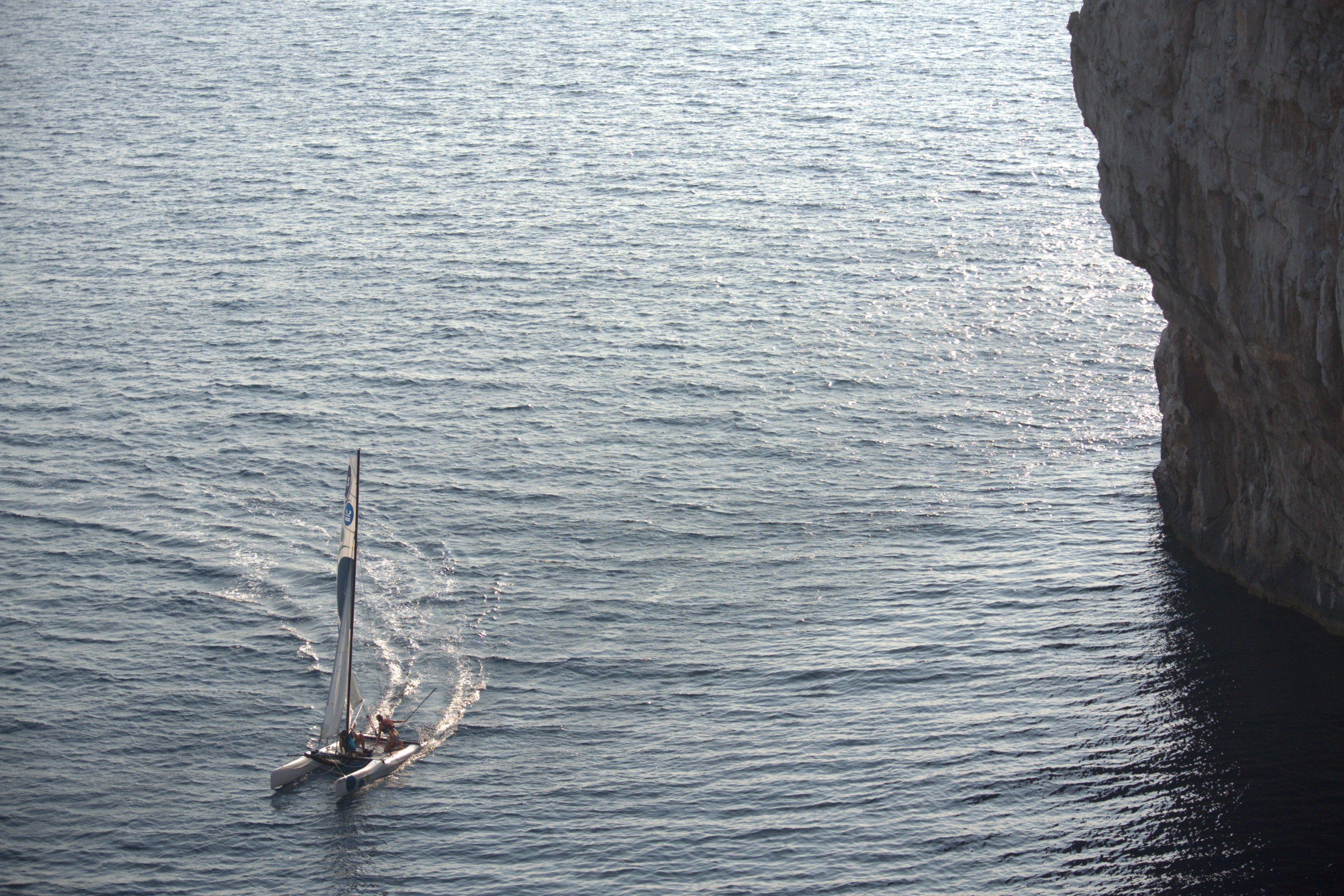 Day 06
ZIZANJ ISLAND
It's time to wake up and enjoy another breakfast along the water's edge, after which we head down to the Zut Canal. We go down to the Zut canal. Like a large open Fjord, the boats slide from one side to the other and we discover another side of Kornati National Park. South of Zut , we head for Zizanj Island: our new camp.
Jour 07
BACK TO THE BASE
We head towards the Murter archipelago, and slalom through beautiful islands and lagoons. We then head North toward Pakostane and return to our base.
The tour ends with a good rinsing of both boats ... and sailors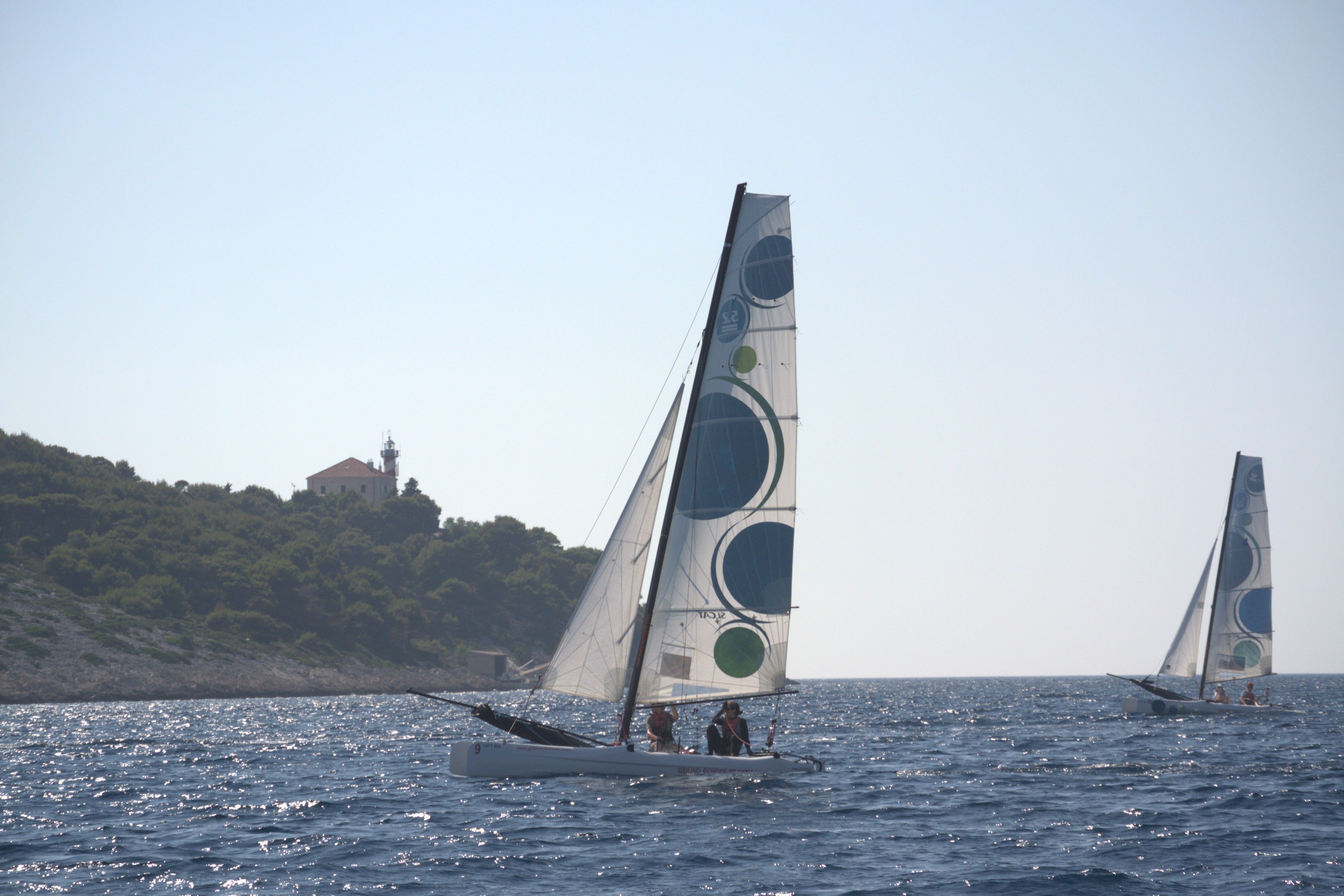 MORE INFORMATIONS

Group of 9 participants maximum.Accommodation in tents and at homestay Note: this program is subject to changes due to factors beyond our control (weather, fire, etc ....).
NAVIGATION EQUIPMENT PROVIDED BY GALEB AVENTURES
Shorty Neopren Tribord 2/3 mm

Trapeze harness

Life jacket

CAMPING MATERIAL PROVIDED BY GALEB AVENTURES
Tents for 2 persons


Dishes and camping gas

40 liters waterproof bag or can
WHAT TO BRING

Sleeping bag (watch the spring and autumn can be very cool)

Good floor mat (the best ones are self-inflating)

Glasses and glasses clip

Hat, cap, sun cream


Shorts


Fleece and a windbreaker (watch out for the cool sea))


Head light


Hiking shoes


Soap for seawater

Long sleeves for sun protection (lycra style, pants ..)

Medications


Shoes or booties to tackle stony beaches

Gloves

1 knife
DATES AND DOCUMENT
Every week from May to end of September

Identity card or valid passport

No vaccine necessary

Currency : Kuna
PRICE
Prix 2022 par personne :
750€


PRICE INCLUDE :
Camp and tent for 2 persons
Room in a village for the welcome day
Guide coaching
Park entrances
Kitchen supplies
Diner from the arrival day to lunch on Day 6
PRICE DO NOT INCLUDE :
Accommodation and dinner on the last day
Drink except water
Personal extras
ORGANIZING AGENCY IN CROATIA COORDINATES
---
Galeb Aventures
Obala petra Kresimira IV
23211 Pakostane
Croatia
Contact us E email.
Tel 00385 23 381 423
Mobil 00385 (0)91 542 3902