SAFARI RAID KAYAK
6-day KAYAK trip in Croatia
Go on a fantastic adventure
Croatia undoubtedly, is one of the most remarkable places for kayaking.
Imagine a horizon of islands, flat, translucent water, virgin landscapes, and a rocky coast cut like a labyrinth.
Galeb Adventures takes you to the Kornatis, a vast archipelago of more than 400 islands and islets, to discover its landscapes, culture and inhabitants.
Croatia kayak raid highlights
Navigation through a very dense archipelago
The horizon is walled by the islands. Whatever direction you go, you will navigate a through a fun, beautiful and safe labyrinth.
You will discover Kornatis and Telascica National Parks.
Landscapes full of variety and beauty
Discover a sublime landscape, a sea of ​​incredible colors, and untouched nature.
Feel Safe
The water protected by the islands provide easy and safe navigation.
Guide experience
Since 2003, our guides have sailed countless miles and racked up loads of experience making Galeb Adventures an original.
6-day Sea kayak navigation program
ACCUEIL Jour 01
Our team welcomes you in the late afternoon hours at the Pakostane base. Your guide will introduce you to the nautical base and settle final formalities, after which you will be transferred to the island of Zizanj our base camp.
There you will meet the group. Your guide, will present you the raid program and the boats.
Then it will be time to take care of yourself (and especially your tummies) with a delicious grill at the water's edge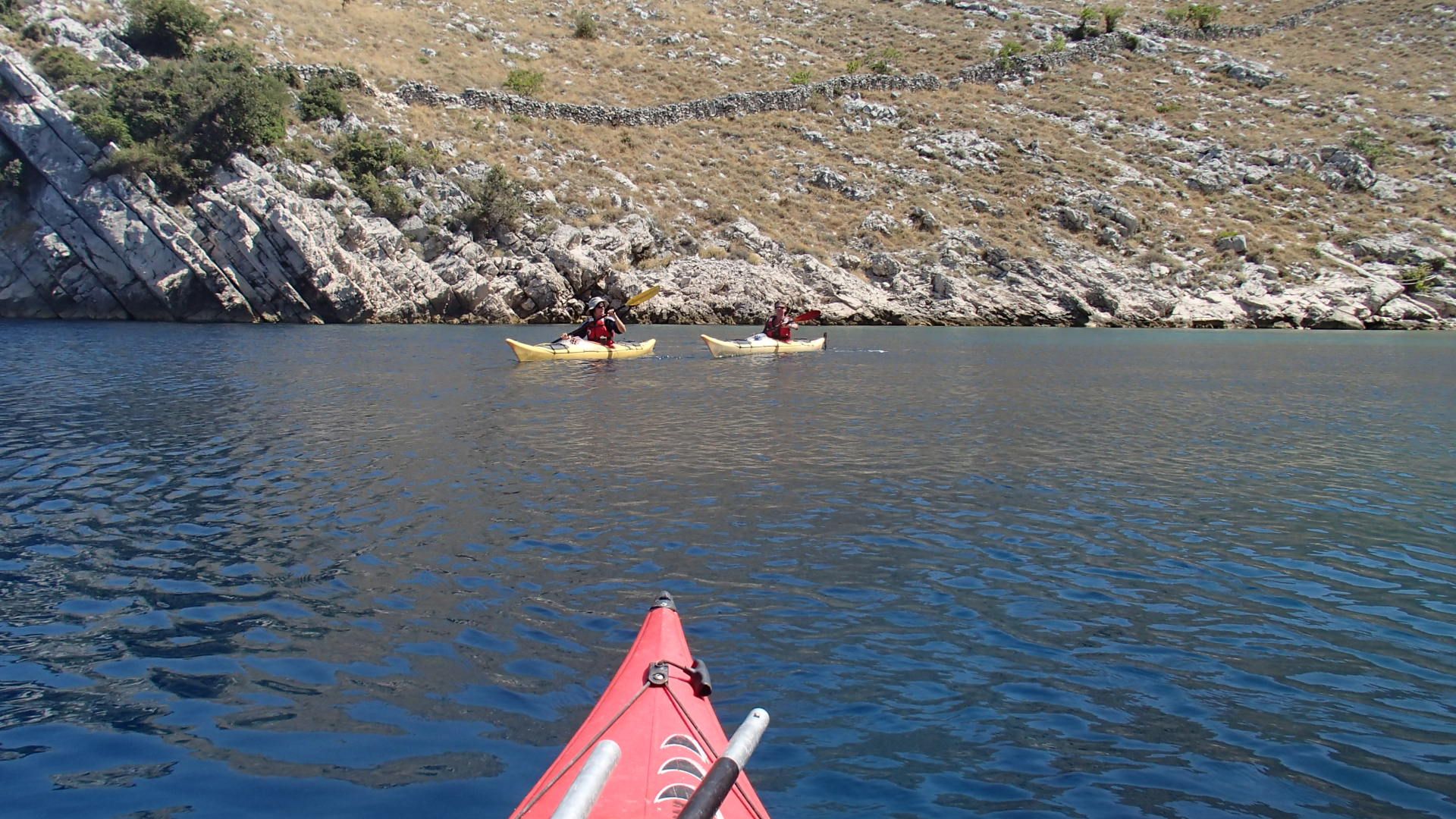 Day 02
KAYAK EXPEDITION DEPARTURE - ZIZANJ
The day begins with a hearty breakfast by the water's edge. Then, it 's time to have you familiarize yourself with the basics of group navigation, padding through the crystal clear waters of the Adriatic. Upon returning to the base, we prepare for the raid: tents, dishes, food... Everything must be return to our boats. After lunch, it's adventure time! You follow along Island coast; your goal: they of Sveti Anteto set up camp.
A notre retour au camp, ce sont maintenant les préparatifs du raid: tentes, affaires, vaisselles, nourriture... tout doit rentrer dans nos embarcations.Après le déjeuner, c'est parti pour l'aventure. Vous suivez la côte de l'île de Pasman, objectif: la baie de Sveti Ante pour y établir votre premier camp itinérant.
En find de journée, le guide vous propose une petite ballade dans le maquis croate avant le préparation du diner au bord de l'eau.
Day 03
TO SIPNATE
Your day begins with sailing in the sit archipelago. From island to island, you head west to reach the provers Pass, an S-shaped pass that marks the northern entrance to Kornati National Park. You follow Kornat, the park's largest island, known for its rare vegetation, and finally arrive in the bay of Sipnate where Vid is waiting for you with a delicious meal in his "Konoba"(a traditional small Dalmatian restaurant). Before relaxing in the Sipnat Bay camp you will hike the rocky pass to the dominating peaks of the bay and the west side of the park.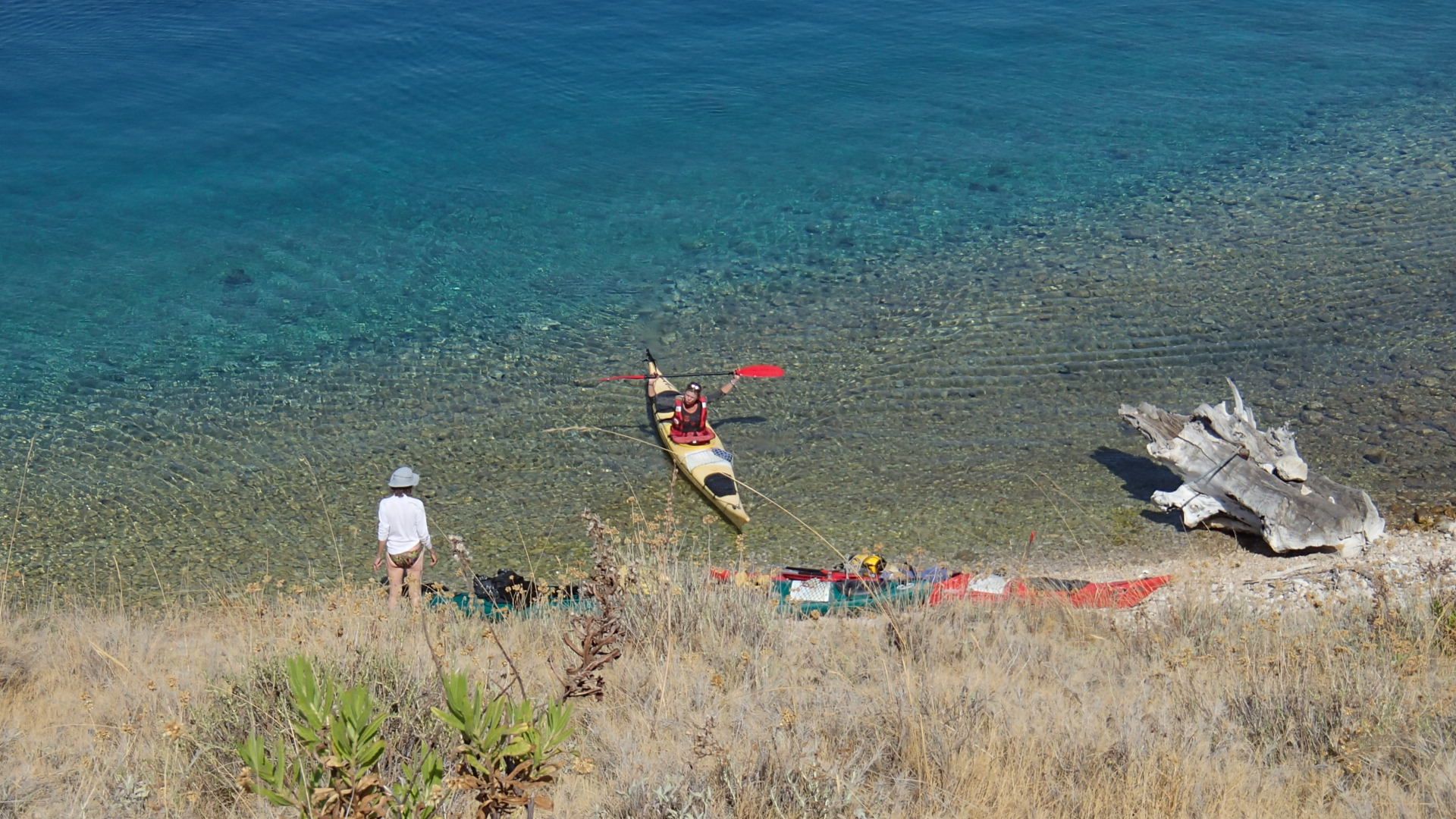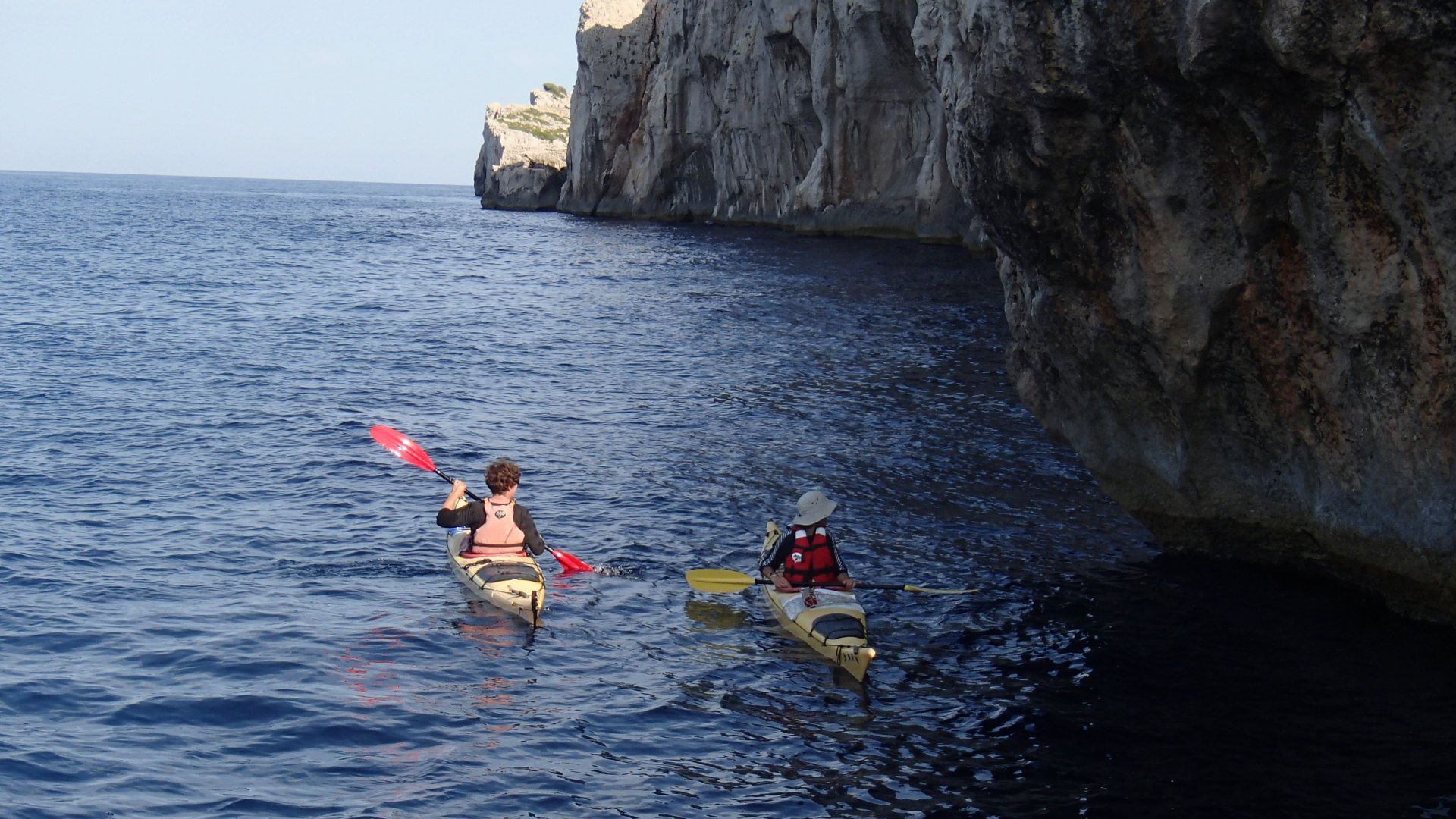 Jour 04
LEVRNAKA
Next on the itinerary is Telascica Park. The Sestrica lighthouse marks the north of Kornati Park and the entrance to Telascica Park, famous for its cliffs overlooking the Adriatic Sea. A coastal path leads you to the ridges to indulge a remarkable view.
Another peculiarity of the park: Mir, a small salt lake fed by the infiltrations of the sea in the rocks, lake whose level changes with the movements of low and high tide (with a little delay compared to the sea). to the Island of Levrnaka to arrive in the sumptuous bay of Edi. This will be the time to camp and in the evening Edi will treat you to his fishing on his terrace with breath-taking views of the park.

Day 04
SOUTH OF KORNATIS
En route to the south of Kornatis by sea, the islands offer a completely different perspective of the national park, with cliffs carved by a combined attack of waves and salt. On to southeast, skirting these islands, a spectacle awaits as you find yourself at the foot of the walls. You will have the opportunity to dive into the drop offs, with a grand blue atmosphere in the midst of fauna rich in colors. After a long day a well-deserved rest awaits you under the shade of olive trees before returning to the well protected by Levrnaka Bay.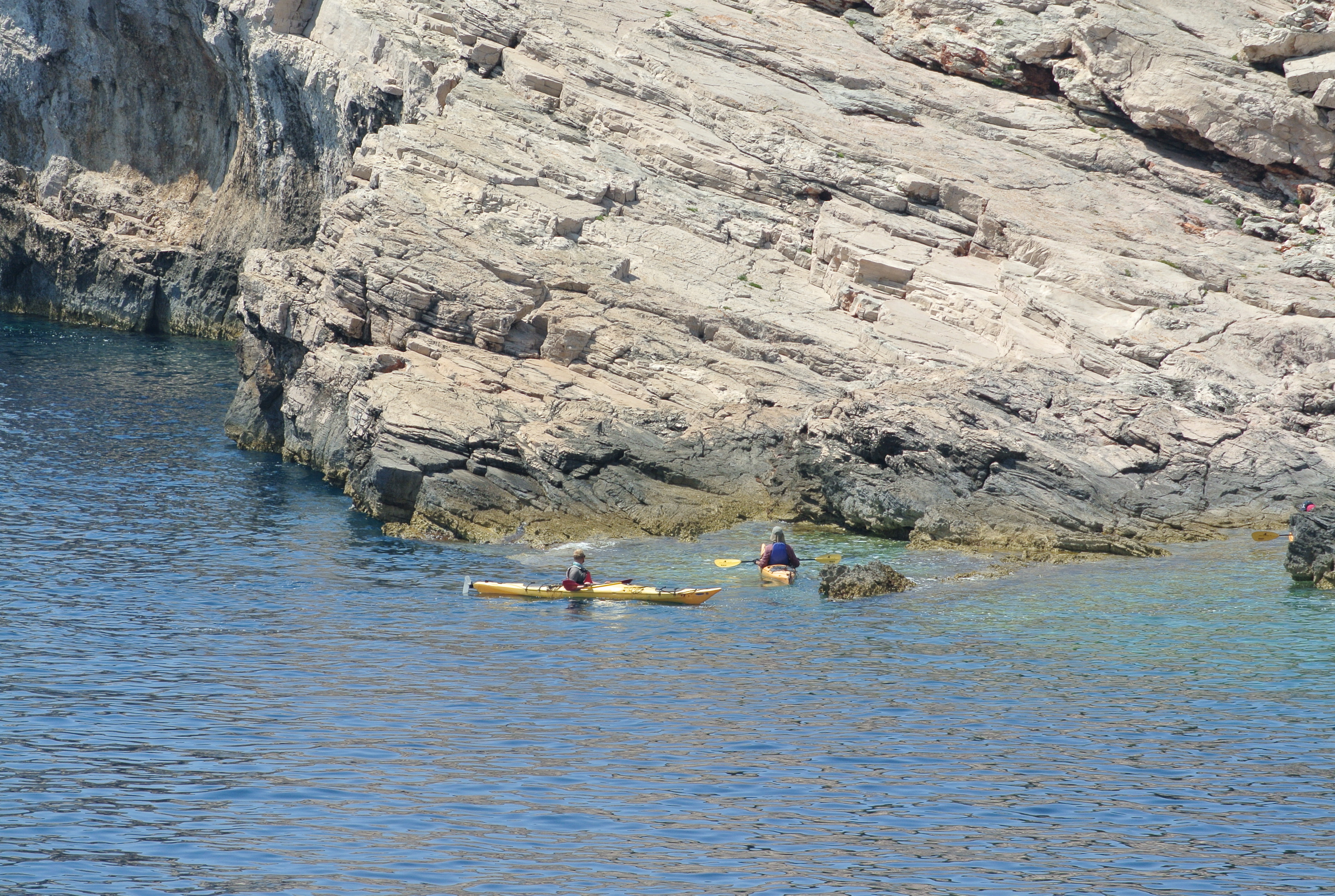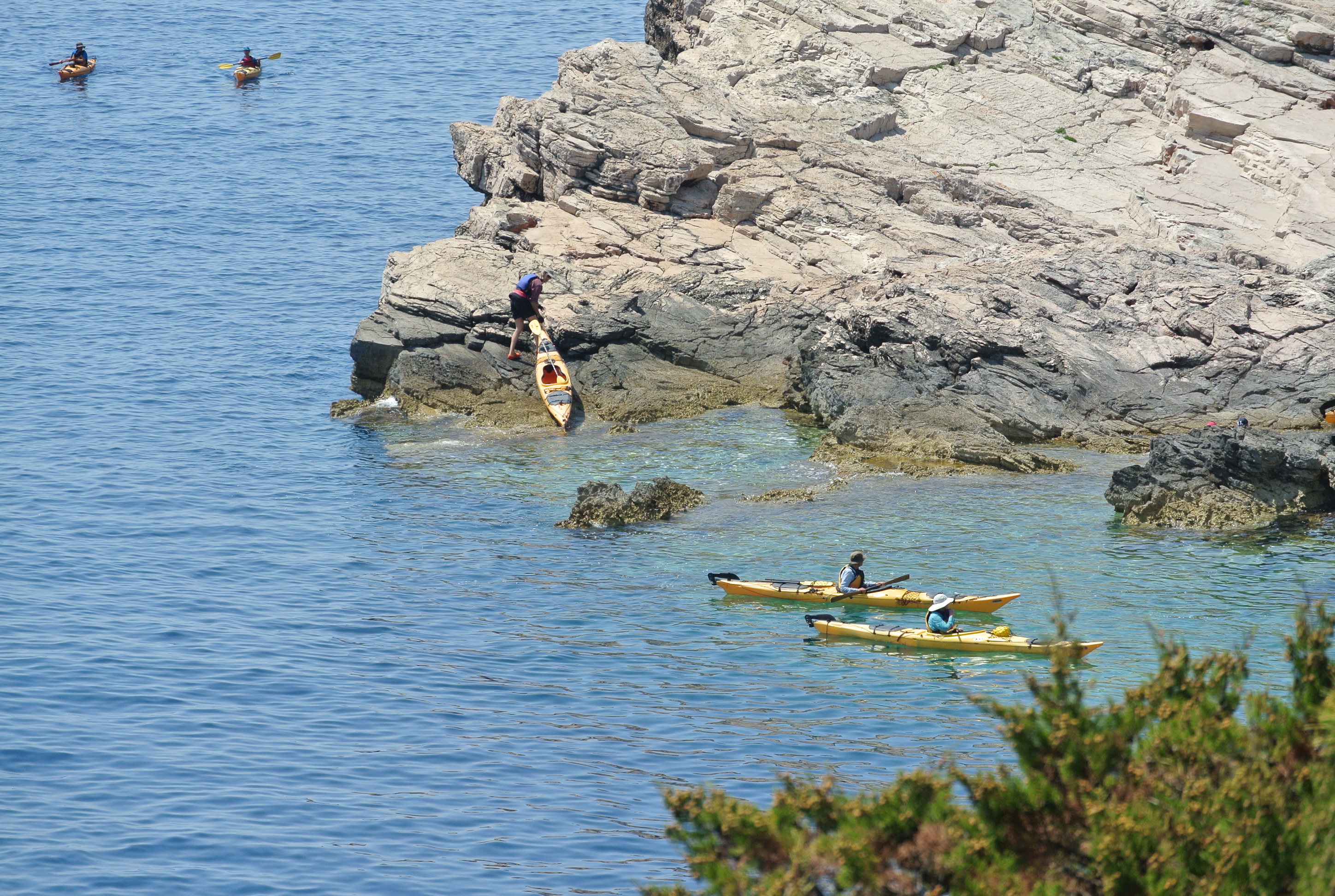 Day 6
PENIZELIC ISLAND
Your kayaking trip resumes toward the islands of Mana, followed by Kornat for a stop to hike to its summit: Metlina. Walking along the coast you'll pass a rare remnant of the park, a small Byzantine fort, overlooking the Kornat Channel. Below, a tiny chapel reminds of the strong Catholic beliefs among the fishermen of the region. You will then slip into transparent waters, experiencing once again the magic of the Adriatic Sea. In the evening, at the camp set up on Penizelic's Little Island, you will enjoy a meal by a fire under the Milky Way; its constellations mapping out dreams of navigators.
Day 05
FJORD OF ZUT
From Penizelic we slide into the Zut Canal: the Southeast Cape, a kind of big fjord between the island of Kornat and of Zut. Several scheduled stops, allow you to appreciate the southern panorama of the park, climbing a canyon to explore a natural cave in the bay of Stivina and stopping at a picturesque Konoba run by two brothers. Following a picnic under the pines, your final paddle will lead you back to the Island of Zizanj in the late afternoon. The tour ends with a good rinsing of kayaks, equipment, and participants before heading back to civilization in Pakostane.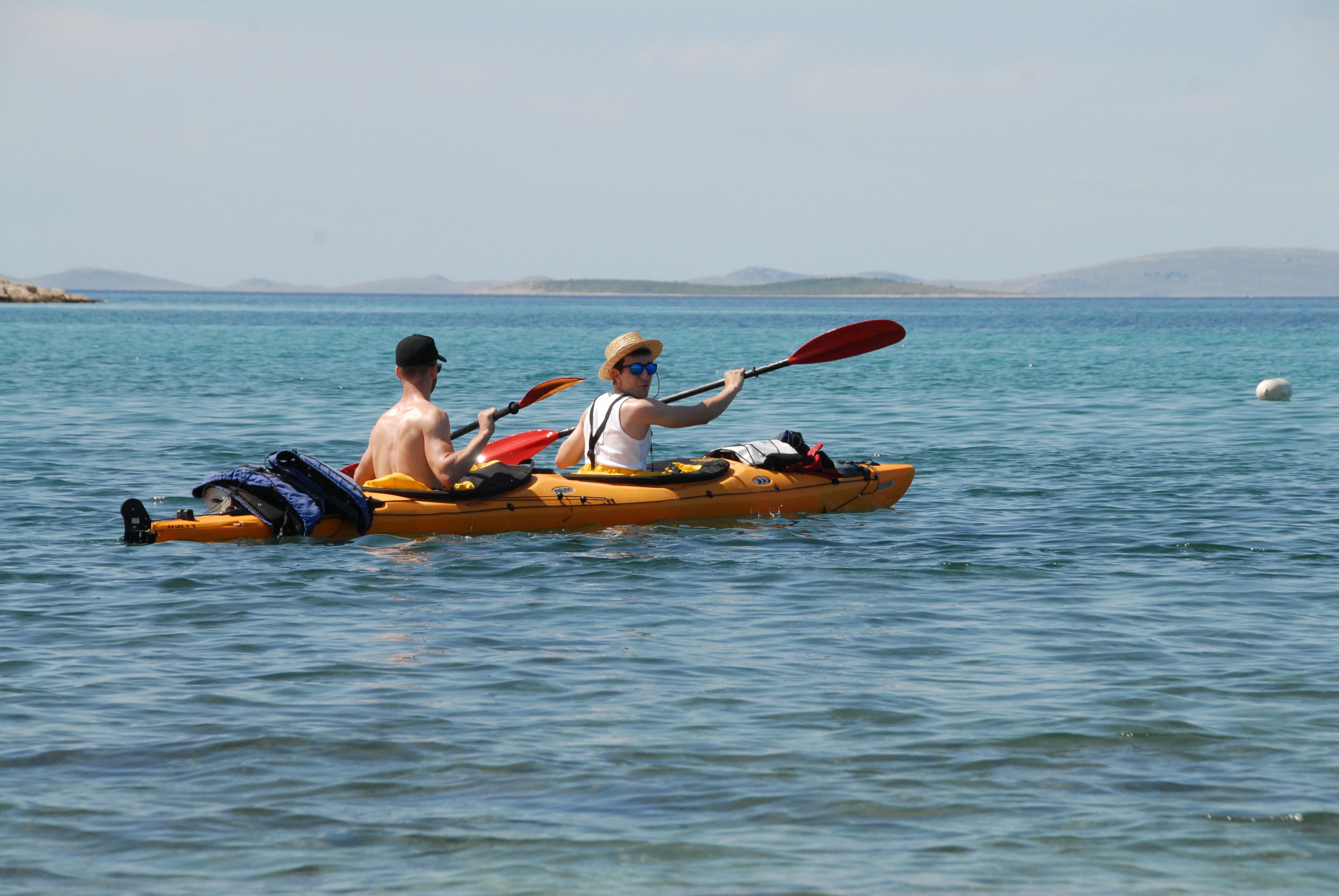 Single : "Seayak Prijon"
Weight 26 kg /Max Load 120 kg / Dimensions (4,90 m. x 0,58 m.)
Equipment : 2 compartments waterproof (92 and 110 liters), net bridge, lifeline, seatcomfort,hold position feel,skirt, steering. Construction polyethylene.
Single : "Kodiak Prijon"
Weight 26 kg / Max Load 120 kg / Dimensions (5,18 m. x 0,59 m.)
Equipment : 2 compartments waterproof (63 and 114 liters), netbridge, lifeline, seat comfort, hold position feel,skirt,steering. Construction polyethylene..


Double : "Excursion Prijon"
Weight 37 kg /Max Load 260 kg / Dimensions (5,18 m. x 0,72 m.)
Equipment : 2 compartments waterproof (60 and 120 liters), netbridge, lifeline,seat comfort, hold position feel, skirt, steering .Construction polyethylene.


NAVIGATION EQUIPMENT PROVIDED BY GALEB AVENTURES
Life jackets


Paddles

Spraydecks

CAMPING MATERIAL PROVIDED BY GALEB AVENTURES
Tent for 2

Dishes and camping gas

2 Waterproof bags (22 liters)

1 waterproof bag (7 liters)
WHAT YOU SHOULD BRING

Sleeping bag (watch the Spring and the Autumn can be very cool)

A good floor mat (the best ones are self-inflating))


Sunglasses, hat or cap, sun cream


Shorts


A fleece and a windbreaker (watch out for the cool sea)

A head light


Shoes for hiking


Soap for seawater


A T shirt with long sleeves for sun protection during while out on the water (Long -sleeved Lycra tops, pants....)

Essential medications


Shoes or booties to tackle stony beaches and sea urchins

Gloves

DATES AND DOCUMENT
Every week from April to October


Valid identity card or passport

No vaccine necessary

Currency : Kuna
PRICE
Prix 2022 par personne :
590€
Discount of 5 to 10% for groups of more than three people
5% special discount for registrations before March 31st
PRICE INCLUDE
Tents (for two persons)

Park entrances
Guided coaching
Kitchen and camping equipment
Accommodation and dinner from the Arrival day to lunch on day 6
PRICE DO NOT INCLUDE
Accommodation and dinner on the last day
Drinks, other than water
Personal extras
ORGANIZING AGENCY IN CROATIA COORDINATES
---
Galeb Aventures
Obala petra Kresimira IV
23211 Pakostane
Croatia
Contact us with E-mail.
Tel 00385 23 381 423
Mobil 00385 (0)91 542 3902