SOLO KAYAK TRIP
This option is for those wanting to go on a solo adventure without guide in an organized
Croatia undoubtedly is one of the most remarkable places for kayaking.
Imagine a horizon of islands, flat and translucent water, Virginie landscapes, a rocky coast cut like a labyrinth.
Galeb Adventures takes you to the Kornatis, a vast archipelago of more than 400 islands and islets, to discover its landscapes, culture and inhabitants.
Navigation through a very dense archipelago
The horizon is walled by the islands. Whatever direction you go, you will navigate through a fun, beautiful and safe labyrinth.
Landscapes full of variety and beauty
Discover sublime landscape, a sea of ​​incredible colours and untouched nature
Feel Safe
The waters protected by the islands provide easy and safe navigation.
Advice and Routes from our team
With all the experience gained and miles passed since 2003, there is so much our team can share in order to make your trip one to remember.
Solo kayak navigation program
Home

Upon arrival at the Pakostane base, our team will welcome you and offer you routes points of departure, and tips and tricks so that you can benefit from our experience and navigate serenely. By providing you advice, navigation and camping equipment, as wells specific routes mapped out by our agency, you will be able to navigate at your own pace, carefree.
Then it's up to you to prepare your boats and load them.

If you have to, you can opt for a kayak course that will help build your confidence and have a stronger foundation.
You can stock up on supplies in the local village shops.

You can stay in touch and text us any questions you may have.

Finally non-essential things (suitcases, jackets ...) can be stored at the nautical base. We also provide free parking
Single : "Seayak Prijon"
Weight 26 kg / Max load 120 kg / Dimensions (4,90 m. x 0,58 m.)
Équipment : 2 waterlight (92 et 110 liters), deck net, lifeline, comfort seat, footrest, skirt and rudder. Polyethylene construction
Single : "Kodiak Prijon"
Weight 28 kg / Max load 150 kg / Dimensions (5,18 m. x 0,59 m)
Équipment : 2 water light compartments (63 et 114 liters) deck net, lifeline, comfort seat, footrest, skirt and rudder. Polyethylene construction.


Double : "Excursion Prijon"
Weight 37 kg / Max load260 kg / Dimensions (5,18 m. x 0,72 m.)
Équipment : 2 waterlight (60 et 120 liters) deck net, lifeline, comfort seats, footrests, skirts and rudder. Polyethylene construction.


CHOICE OF KAYAKS
The choice between two simple kayaks and a double can be problematic. Be aware that having two simple doubles the storage capacity compared to one double. You are the only master aboard your boat. In doubles, the effort is less intense and the boat a little faster with equal effort. It is also a little more stable.
NAVIGATION EQUIPMENT PROVIDED BY GALEB AVENTURES
Life jacket


Paddle

Spraydeck


Marine map

CAMPING EQUIPMENT PROVIDED BY GALEB AVENTURES
Tents for 2

Cookware and camping gas

2 Waterproof bags ( 22 liters)

1 waterproof bag (7 liters)

ITINERARY
At the base our team will suggest routes, addresses and provide you our famous route maps.
.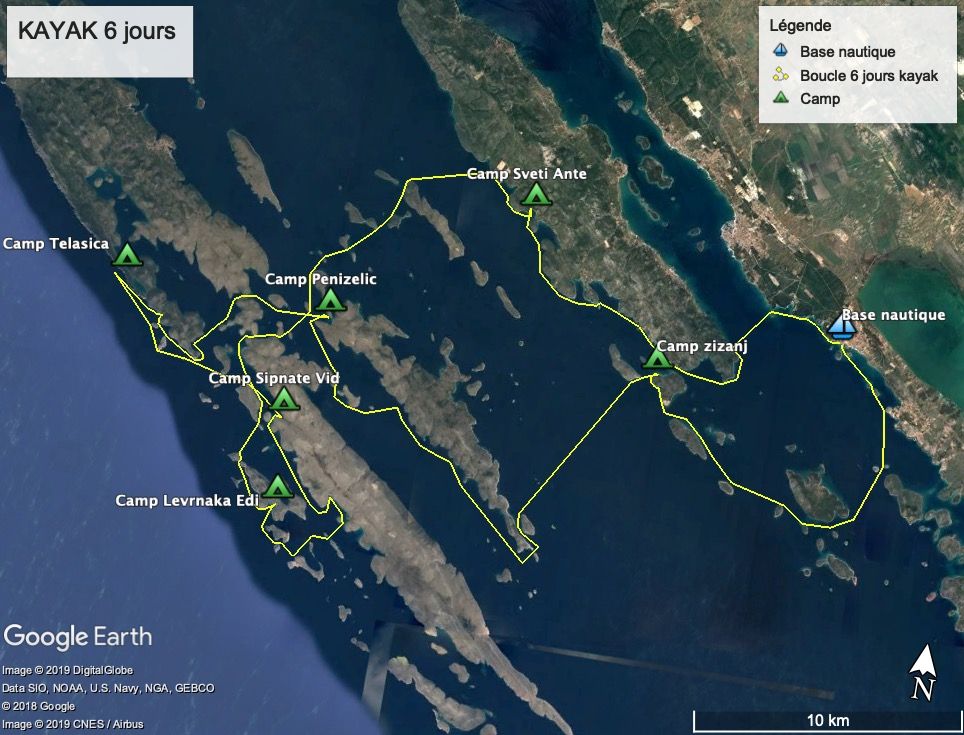 WHAT YOU SHOULD BRING

Sleeping bag (be careful Spring and Autumn can be very cool)

Good floor mat (the best ones are self-inflating)

Sunglasses, hat or cap, solar cream


Shirts


A fleece and a windbreaker (watch out for the cool sea)

A head light


Shoes for hiking


Soap for seawater


An outfit to protect from the sun during navigation (licra long sleeves, pants ..)

Essential medications


Shoes or booties to tackle stony beaches and sea urchins

Gloves
DATES AND DOCUMENTS
Every week from April to October


A valid identity card or passport

No vaccine necessary

Monnaie : Euro
Nos offres 2023
1 day = 30 € (without camping equipment)
3 days = 120 €
6 days = 200 €K
1 day = 45 € (without camping equipment)
3 days = 150 €
6 days = 250 €
PRICE INCLUDE :
Navigation equipment
Kitchen and camping equipment (tents for two)
Bag and/or suitcase storage and parking
PRICE DO NOT INCLUDE :
Accommodation and camping fees
Restoration
Park entrances
ORGANIZING AGENCY IN CROATIA COORDINATES
---
Galeb Aventures
Obala petra Kresimira IV
23211 Pakostane
Croatia
Contact us with E-mail.
Tel 00385 23 381 423
Mobil 00385 (0)91 542 3902